Tokheim
From HighwayWiki

Corporate History and Overview
Following the February 1898 design of a gas pump by John J. Tokheim the Tokheim Manufacturing Company was incorporated in Cedar Rapids, Iowa in 1901. In 1918 employees of the Wayne company set out on their own, purchasing Tokheim and reincorporating it as the Tokheim Oil Tank and Pump Company, moving to Fort Wayne, Indiana in the old Wayne Spoke and Bending Company factory. In April 1926 they acquired the Signaphore company, also located in Fort Wayne, and formed the Tokheim Traffic Signal Division - although such branding has not been seen on their products, instead retaining the TOT&PCo. nomenclature. This acquisition brought along J. N. Paul of Automatic Signal Co. and Ruben E. Bechtold, from Signaphore. They would greatly develop and expand the Signaphore line into the modern traffic signal as well as introduce new controllers. By 1937 their interest in the product line waned and on January 8th, 1938 the transition of their signal interests both in design and manufacturing to Automatic Signal of East Norwalk, Connecticut, took place, along with pioneering traffic engineer Reuben E. Bechtold. [1] For a period of time after the transition, Automatic Signal traffic lights were marked Automatic Signal Corporation, Tokheim Signal Division.
Traffic Signals
Design Characteristics
Signaphore Era

When the Signaphore line was acquired they were producing novel 4-way traffic signal standards that appeared much like a round bodied gas pump with a traffic light on top. Like many manufacturers of the day they produced signals out of both aluminum and copper, later switching to all aluminum. Quite popular locally, they attracted the attention of Detroit, who requested pole-mount versions of the signal. Adjustable traffic signals would follow, and their market spread throughout the midwest including such cities as Cleveland, Chicago, and Detroit. It has been said they entered the international market too, however little is known of that.[1]
For a brief period of time following the acquisition of Signaphore, Tokheim produced an intricate appearing four-way signal available in both aerial and post mount versions. It is believed this type only existed through 1925 as Tokheim quickly implemented their own designs.
Early Tokheim Designs

In 1926 Tokheim begin to advertise traffic signals of a revised design that had the same basic design that would continue through the end of their product line. The primary difference in these signals was the design of the porthole door. In the early signals it was a door hinged to the body while held down with four thumbscrews protruding through ears on the door. Later signals would simplify this door design, remaining hinged but changing it to a full circle (removing the thumbscrew ears) and locking it down via only two body mounted studs with springs, L-brackets, and wingnuts mounted to the upper left and lower right of the door - although the body casting and door castings would contain provisions for four hold down tabs. The visors maintain the same profile, however the earlier ones appear to be cast and either integral or bolted to the door.
All Post-Signaphore Tokheim signals were designed with several characteristics:
All bodies are of cast aluminum
Felt gaskets are used on the lense and door
Doors are portholes held in place with two L-clamps and wingnuts
All visors were cutaways with 8" length
Reflectors are thick glass with an electrolytic copper plating
Reflectors are held in a pan and mounted to the signal body
Sockets are a porcelain Leviton wing style
Wiring is done with rubber wire
Lamps are 50-Watt mill or 60-Watt traffic bulbs
Tokheim signals also had several build options available as documented in the hardware section.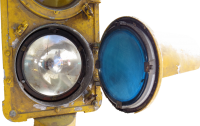 The design and construction of the Tokheim signal was pretty standard. The basic 4-way light was built of cast aluminum plates assembled into a box section (earlier lights used a single plate per side, later lights would use one plate per aspect.) The sides featured little in ornamentation, the borders were raised while the remaining side face was recessed save for a proud lip to mate with the door. Both the top and bottom were simple affairs, a rounded pizza box square. The bottom featured a flower patterned rain drain however this still remained the weak point of the signal. Despite numerous examples surviving 80+ years in service in good health almost every bottom plate would stress crack or suffer the effects of moisture rot long before, requiring an inservice retrofit.
Adjustable signals were similar, a two piece design consisting of a curved tub for the back of the housing and a flat front plate which mounted to it, though not interchangeable with the 4-way plate. Later adjustables would be built in sections - one per lens.
The reflector mount was integrally cast into this side plate, set back in a deep recess. The reflector itself was a two piece affair: a black enamel steel bowl which mounted to the body with a twist-on screw-and-eyelet design into which was set a thick mirrored glass reflector. A standard keyless porcelain front mount/back wired socket would mount to the reflector bowl. Similar sockets were used in may other signals of the era, CH Type-T, Harrington Seaberg, etc. It would be a few decades before manufacturers would consider the custom phenolic socket route.
The porthole doors were an intricate affair. Molded with architectural flair, the porthole would mount to the body via two thick hinge bosses permanently pinned to a thick piece of U-channel steel, the U-channel being bolted to the body of the signal. Early doors had four ears to hold captive thumbscrews, similar to a Harrington-Seaberg. The later style did not require ears as the unequal brass studs were mounted to the body upon which rested a large steel spring, one of several variations of l-bracket latches, and a wingnut. The face of the door would have four plinths to catch these wingnut-brackets - typically only two would be used but the alternates could come in handy when used with angled door adapters. Rounding out the exterior of the door was a deep inset for the lens. This allowed for inset mounting of the visor. On the reverse of the door was a series of steppes and grooves. The outermost held a feltlike gasket to seal the lampholder against dust. Rising far from this was a crown ring that formed both mounting bosses for the steel/brass lens retainer clips as well as provided a small lip to hold the lens/felt lens gasket into position.
Example of he first later model Tokheim door. Compared to the more typical later model units, the door itself is more rounded, visors are attached to a rounded piece of L-channel which is bolted to the signal, and lenses are held in with only three tabs. Later versions would add a fourth lense tab, square off the edges of the door, and break through the lens tab holes to make them dual use as visor mounting holes. The visor would also get rivited in tabs, replacing the bolted angle bracket piece.
Later Tokheim Designs
These signals were intorduced in 1927 and are believed to use the same housing as the early Tokheims with a new style door and visor. Otherwise the construction is believed identical.
Four Ways
Signaphore Signals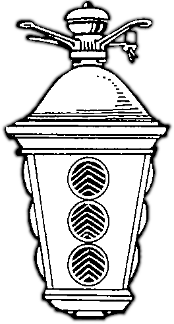 Early Tokheim Signals
Cut 1110 - Aerial Traffic Control Signal
A precursor to the Cut 1200, as shown, equipped with a bell.
Cut 1112 - Dual Traffic Control Signal
A precursor to the Cut 1300

Later Tokheim Signals
Cut 1200 - Four-Way Aerial Traffic Control Signal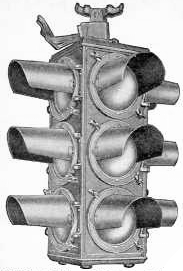 Cut 1260 - Four-Way, Two Color, Aerial Traffic Control Signal
No Yellow/Caution Lens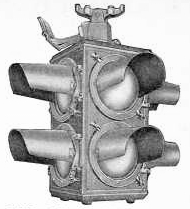 Cut 1300 - Four-Way, Post-Type, Traffic Control Signal

Sectional Signals
At some time, 4-way sectional heads were also made.
Adjustables
Early Tokheim Signals
Cut 1170 - Vertical Traffic Control Signal
Precursor to the Cut 1410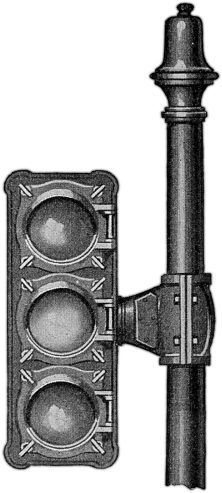 Cut 1171 - Horizontal Traffic Control Signal
Precursor to the Cut 1410
Later Tokheim Signals
Cut 1400 - Horizontal Adjustable Post Bracket, Traffic Control Signal

Cut 1406 - One-Way, Vertical-Bracket Type, Traffic Control Signal
Also available in two to four way clusters. Solid Body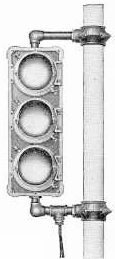 Cut 1410 - Vertical Adjustable Post Bracket, Traffic Control Signal

Sectional Signals
This is a sectional signal head made by Tokheim.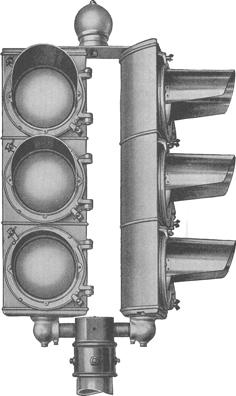 Pedestrian Signals
Vehicle Heads (Round)
Tokheim did not manufacture any pedestrian signals.
Vehicle Heads (Square Door Adapters)
Tokheim did not manufacture any pedestrian signals.
Pedestrian/Sign Heads (Rectangular)
Tokheim did not manufacture any pedestrian signals.
Informational Signals and Signs
describe models, variations [delete] includes "box signs," "case signs," and Ped Heads with special [non-ped] lenses.
Lenses
Vehicular
Lenses are 8 3/8" dia. with a 90° diffusing pattern. Command lenses are optional, with embossed letters two inches high, and a baked enamel finish.
Pedestrian
describe models, variations
Worded
describe models, variations
Symbols
describe models, variations
Special
describe models, variations
Controllers
Controllers were individually settable for the Red, Yellow, and Green phases. Stop and Go could be set for anywhere from 15 sec. to 3 minutes. The clearance, yellow, could be set from two seconds to approximately ten seconds.
Signaphore Controllers
The early controllers were either inherited from Signaphore or developed shortly thereafter. Not surprisingly, the early units were housed in a cast iron tube resembling the base of a gasoline pump.

Cut 2000 - Chronoplan
Not a controller in itself, but the Tokheim guide on installation and setup of a traffic controller system utilizing a Chronolizer and several 1500 Timer modules. Improvements of up to 94% over the synchronized system and 43% over the staggered controller systems were guaranteed for a car doing the speed limit.
Chronolizer - Central Controller
This was a device attached to a series of 1500 timers to control a full roadway of signals in interoperation and coordination. It would set the cycle period for each individual controller which still had independent control over the timing of its red/[amber]/green split times. More than 1000 of these systems were reported in operation by 1928, reportedly improving the average speed of traffic flow "by 94% over a synchronized system or 43% over a stagger system."
Cut 1500 - Traffic Signal Timer
Introduced in 1925, the model 1500 was a local timer for controlling traffic signals.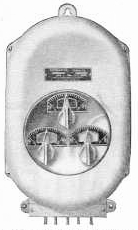 Cut 1550 - Universal Traffic Signal Timer
Available NLT 1931, the Cut 1550 was an improved version of the 1500. It was marketed as a universal timer in so much that it provided a large variety of terminal posts for signal wiring and by a combination of connections primarily dealing with yellow overlaps during the phase change in both directions. Tokheim provided a two year warranty on this product.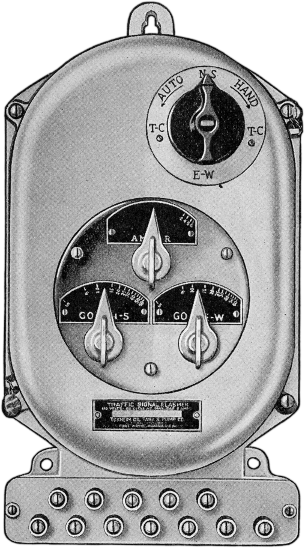 Cut 1820 - Automatic Traffic Signal Control
The model 1820 was essentially a 1500 timer and associated circuitry in a cabinet to allow isolated operation of a single signal or intersection.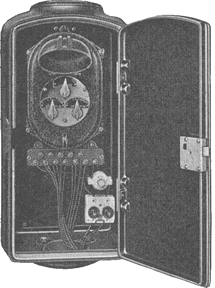 Magnetic Detector
Part of the later signal line upgrades included early magnetic detectors for vehicle-actuation. Following is an example of the controller with magnetic detection modules and a marketing image of an intersection configured as such.
Figure: Tokheim magnetic detectors. [Image by LC]
Hardware
.
Miscellaneous Images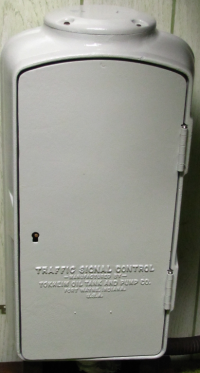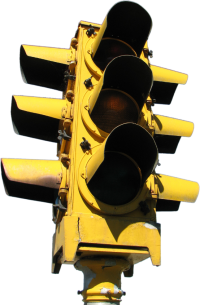 .
Relevant Patents
USD67117S, https://patents.google.com/patent/USD67117S/en?q=signaphore&before=19450101
USD67118S, https://patents.google.com/patent/USD67118S/en?q=signaphore&before=19450101
Inventor Company Number Date, Filed Date, Issued Desc Link
R. E. BECHTOLD Tokheim Oil Tank and Pump Company 1926833 26-Apr-26 12-Sep-33 Tokheim Signal Controller http://www.google.com/patents?id=rDpCAAAAEBAJ

R. E. BECHTOLD Tokheim Oil Tank and Pump Company 1951816 31-Jul-28 20-Mar-34 Synchronized Controller System http://www.google.com/patents?id=7JZXAAAAEBAJ
References
[1] Back to the Future Tokheim, Bob Lee, 1993, ISBN 0-9638220-0-4