Porta-Signal
From HighwayWiki
Summary
Porta-Signal was a Division of the Dryomatic Corp. of Alexandria, Va. They produced portable traffic signals for use in temporary situations where auxilliary traffic control was needed.
Traffic Signals
Four Ways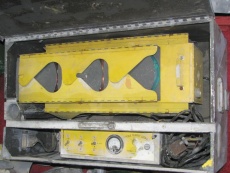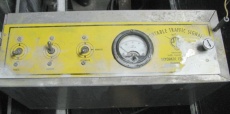 In 1959 the Portable Traffic Signal Model A2 was introduced by the Porta-Signal company at a retail price of $995. It was a miniature 4-way and controller assembly housed in a trunk approximately 30" x 17" x 14".
An article from Time Magazine read: Portable Stop Light. A portable, radio-controlled traffic light that fits into the trunk of a car was demonstrated by Porta-Signal Division of Dryomatic Corp. of Alexandria, Va. Designed for police use at school crossings, traffic jams, the light can be set to flash red or amber as a warning, or preset for a variety of green-amber-red cycles. It can also be operated by radio. Price: $995.
The four-way was approximately 8" square and 24" tall. It featured square cutaway-style visors that unfolded from the signal when taken from the trunk. The lenses were 6" Truck-Lite[tm] style taillights. They featured an internal reflector in which was housed a small 12v bayonette bulb. The lens layout was staggered, while one set of lenses was near the top of the signal, the cross traffic lenses were offset inbetween the main lenses.
The controller was a module permanently mounted in the trunk. It had harnesses for a manual control switch, clips for a 12V battery, and a plug to reach the signal. It featured two channel radio-control operation, a manual mode, an auto mode, and a flash mode. This was accomplished by the use of several modules installed on a backplane.
The signal was mounted on the trunk via several nesting rods that sat in a 2" fitting on the trunk up to a 1 1/4" fitting on the signal bottom.
Miscellaneous Images
some quality pictures (overruns) that didn't flow with the article preceding [delete]
References
TIME Magazine, Article: New Ideas, Published Monday, Jan. 26, 1959, Retrieved Electronically 14 November 2008.