New York City - 5th Ave. Traffic Towers
From HighwayWiki
Tower Detail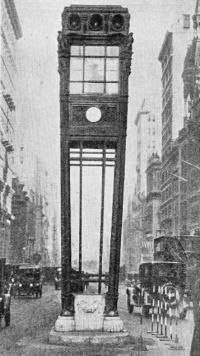 The Fifth Avenue Association purchased seven towers of Bronze to replace five older towers, the first such traffic structures in the city. This modern design of tower was done with a competition following guidelines of the American Institution of Architects, narrowing down 130 entries. The first of these towers went into service December 18th, 1922 at 5th Avenue and 42nd Street. It is the master tower for traffic control along Fifth Avenue and the city looked to expand this concept to other streets.
Facts About the Towers
Constructed of Solid Bronze
23 Feet in Height
Mounted on a 4' x 4' x 3x Granite Base
North and South Facing Clocks Ring and 12AM/PM
Equipped with 350lb Bell
Electric Heat and Glass Windows
References
American City Municipal Index and Atlas, Feb. 1923, pg. 173, "New Bronze Traffic Towers for Fifth Avenue," Charles H. Robinson, Asst. Secretary - Fifth Ave. Association.