Mark IV
From HighwayWiki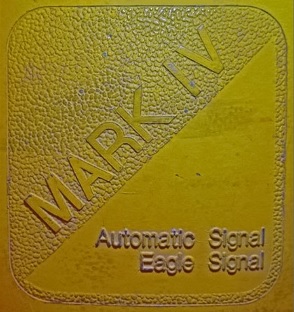 Corporate History and Overview
Wickes sold the Eagle signal line to Mark IV in 1987.
Distributors and Contract Manufacturing
Any notable distribution arrangements or private market signals </div>
Traffic Signals
Design Characteristics
Mark IV produced bubble-backed signals with more pronounced bubbles than GTE's 12" signals. Their 8" signals are barrel-shaped with hinges and latches similar to Marbelite's and LFE Automatic's 8" signals.
Four Ways
Adjustables
Pedestrian Signals
Vehicle Heads (Round)
Pedestrian/Sign Heads (Rectangular)
Informational Signals and Signs
Lenses
Vehicular
Pedestrian
Worded
Symbols
Special
Controllers
Hardware
Miscellaneous Images
Relevant Patents
References
Holding Pen for Unsorted Data, Notes, Etc.