General City Service Company
From HighwayWiki
Summary
General City Service Company (GCSC) was one of many municipal equipment distribution companies, much like W.S. Darley, peddling a plethora of wares to the small towns of America. GCSC was based out of, or had a large office in Los Angeles around the post-war timeframe. Little is known of the company history. Their traffic products were the same models as used in the porthole era of the Southern Autoflow/Southern Switch & Signal et al brands. Their signals were marketed under the Safeway brand, but not believed to have any association with the west coast supermarket chain of the same name.
Traffic Signals
Several examples of this style of light are known to exist, mainly from smaller eastern towns. These signals were likely to have been unmarked, all konwn examples are devoid of all identification and markings, apart from a possible foundry stamp or casting number. They were thinly and somewhat roughly sand cast except for the visors which were rolled sheet aluminum.

The reflectors were aluminum with a socket that fit into a hole in the center and held in via a compression clamp and friction. The sockets were plain in design, a permanently soldered rubber/plastic part. The reflectors were held into a lip on the housing via two small screws.

The doors were held onto the signal with a seperately attached hinge arm bolting to the signal body casting. Bronze cotter pins were used to hold the door to the hinge. Latches to hold the doors shut were merely crude but effective tabs bolted to the body with a spring underneath to provide reverse tension. Adjusting the compression of the door and gasket merely required tightening or loosening the latch bolt.

The door would have a cutaway visor attached with several small screws, unlike later porthole and other Autoflow types which would use peened solid rivets and occasionally a tunnel style visor. These screw-visor doors also exhibited a unique casting flaw[?] of being slightly undersized for a full 8 3/8" signal lens. The lenses were held inside the door via a spring steel wire that snapped into a groove inside the rim, although these lenses may have been installed with glazing putty as well to keep them in place and seal out dirt. The door also featured a rubber gasket for sealing the door to the body only, the lens was mounted glass on aluminum directly.

The spanwire hanger used on these signals was rather unique in appearance.

The signals as provided by GCSC were typically painted green with black shades however they offered to paint any color upon receipt of order.
Four Ways
Four way signals were provided in all three common styles, beacons, two section, and three section signals. These signals were cast as a top plate, a bottom plate, and four side plates. Sides could be blanked out as required but it is unknown if this meant the unused sided were just a featureless cast or if some manner of blank lens/blank door/cover plate would have been installed, allowing an easy conversion to being functional at a later date. Only one type of top was produced, being equipped with the spanwire hanger most often but a finial would be installed if the optional 4 1/2" slipfitter post mount option was ordered. Controllers were included with each signal and mounted inside to the base.
Four Way Signal Models
No. 26        Beacon w/4 Amber lenses, built in flasher
No. 27        Beacon w/2 Amber & 2 Red lenses, built in flasher
No. 26        Beacon w/4 Red lenses, built in flasher
No. 26        Beacon w/4 lenses of either color, no flasher
No. 45        Two Stage Suspended Model, built in controller
No. 46        Three Stage Suspended Model, built in controller
No. 46-SA     Three State Suspended Model, built in controller w/Split Amber operation
No. 47        Post Mount version of No. 46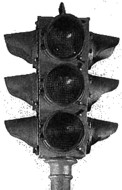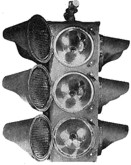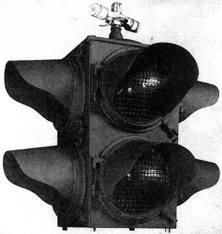 Adjustables
Adjustable signals were provided in two section and three section signals. They appear to be constructed similarly to others of the time, a top and bottom plate encapsulating the signal sections with a set of tie rods. Sold as a set, they could accomodate the most complex intersections of the day with up to six seperate signals on a single cluster hanger.
Adjustable Signal Models
No. 21        3 Color, 4 Way, includes Curbside Controller
No. 22        3 Color, 3 Way, includes Curbside Controller
No. 23        2 Color, 4 Way, includes Curbside Controller
No. 24        2 Color, 3 Way, includes Curbside Controller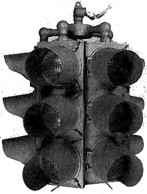 Pedestrian Signals
N/A
Vehicle Heads (Round)
Vehicle Heads (Square Door Adapters)
Pedestrian/Sign Heads (Rectangular)
Informational Signals and Signs
GCSC did not seem to branch out much into other signalling equipment. Apart from a variety of double die stamped steel street signs, they offered a hybrid 24x24 Octagonal yellow sign embedded with a flashing signal. Any message could be ordered on the stop-style sign. The flasher was "built into the signal" but which signal was used is a mystery - a beacon 4-way or an adjustable signal head.
Other Signal Equipment Models
No. 39        Traffic Sign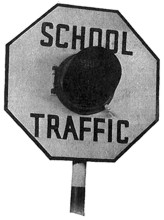 Lenses
Vehicular
The standard lense in the signals were red, amber, and green Corning type B "large bead" lenses. They were intended to have a good vertical downward dispertion and a spread angle of 30° while operating off of bulbs as small as 40W.

At least one example in the field has been seen installed with Adler bar lenses, if this was a factory option or a city upgrade it is unknown.
Pedestrian
N/A
Worded
N/A
Symbols
N/A
Special
N/A
Controllers
No photos or good description are provided for the controller "that is small enough to fit in your hand." It was of synchronous motor design with the gear train sealed in an oil bath. Co-ordination setup was available as was optional RF filters. It was typically for mounting in a signal but aluminum curbside boxes could be provided for seperate installation. It appeared to have some level of time adjustment, possibly factory only, with the standard pattern being on a 40 second cycle split 25/15. A 3-5 second adjustable yellow period was also incorporated (which was treated as a red overlap on two color signals).
Controller Models
No. 14        Three Color Signal
No. 15        Two Color Signal
No. 16        Three Color, Split Amber Signal
No. 43        All Red fire department override 

Hardware
N/A
Relevant Patents
N/A
Miscellaneous Images
some quality pictures (overruns) that didn't flow with the article preceding [delete]
References
Chin (WSignalGLA) provided the catalog which formed references for the bulk of this article.