Econolite
From HighwayWiki
This page is a work in progress!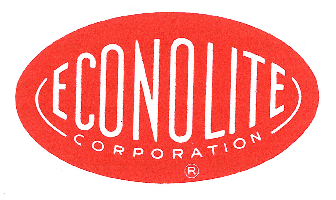 Econolite Corporation
Products
Vehicle Signals
---
Econo-light Stop Sign Beacon
---
'Long-Groove' (8", Aluminum)
Modelled after GE's final 8" signal design, the Econolite Long-Groove is very similar, with a few changes. It features 3 grooves along the back, as opposed to GE's two, and it sports the Econolite logo where the all too famous GE logo once stood. The lens doors are larger, sitting on top of the bodies, instead of being inset. Reflector design was changed as well, as were the sockets. It was discontinued in favor of the Shortgroove due to moisture problems. Heads came with either Kopp Glass TL-4677-E or TL-4655-E lenses, depending on how early they were in the production run.

---
'Bullseye' Roundbody (12", Aluminum)
After Econolite bought GE's traffic signal line, Econolite began producing the traffic light known as the "Bullseye" traffic light in 1957. The "Bullseye" head gets its name from the bullseye appearance of the round body on the back. Square door variants have an older-style Econolite stamping inside the door and a part number E-652, whereas the round door variants have an E-752 part number on their doors. Sometime in the late 1970s, Econolite dropped the corporation from the logo on the back. This was originally thought to be post-1980, but, there are some heads on the street that are the early Econolite green, without washers underneath the latches, and with the newer logo. So, the change may've been phased in over time. Heads were discontinued in 1982, being replaced by the Buttonback heads. Lenses usually were Kopp TL-4955, but may've come with TL-4641 lenses early on.

---
8"-to-12" Enlarger
---
'Shortgroove' (8", Aluminum)
The Shortgroove is named after the grooves on the back of the signal that stop before reaching the housing ends. Pedestrian signals were also crafted using the same housings. The traffic signals shipped with Kopp TL-4655 lenses that have the Econolite logo stamped on them (called the TL-4655-E). After 1961, the 'Corporation' part of the logo was deleted after Econolite was taken over by Tamar Electronics in 1962.

---
'Buttonback' (8" & 12", Aluminum)
Introduced in 1983 to replace the Econolite 'Bullseye' round body 12" heads. The 8" versions followed soon afterward, being introduced in the mid-late 1980s. Production continued until 2001 for the 12" heads. The 8" heads were slightly modified in 2002 to become the style mentioned in the 'McCain-back' section. Door latches used on these heads were "L" bolts with the usual wingnuts. Unlike earlier heads, they were attached to the lens doors and could easily be lost. In a pinch, an Eagle flatback latch can be used to replace a missing Econolite buttonback latch.

---
'Bubbleback' (8" & 12", Polycarbonate)
---
'Kentron-style' (8" & 12", Polycarbonate)
---
'Poly Buttonback' (8" & 12", Polycarbonate
---
'McCain-back' (12", Aluminum)
Introduced in 2002, these are the newest Econolite signals on the market, this style features streamline door latches, a simple backing similar to McCain's, doors that can be reversed to open either right or left, and the newest Econolite logo imprinted vertically on the back of each housing. Like most modern signals, these are available in all standard colors, visor types, and configurations.

---
Pedestrian Signals
---
9 inch and 12 inch
---
'Long-Groove' (9" Square Lens)
---
'Long-Groove' (8" Round Lens)
---
'Shortgroove' (9" Square Lens)
Based on the Shortgroove vehicle heads, but with 9" ped lenses, square reflectors, and different sockets, in a two piece door assembly. Unlike the vehicle heads, they do tend to leak, due to their foam gasketing on the doors. Most seem to have worded 'Legend' lenses, instead of the later symbolic 'Hand/Man' lenses.

---
'Shortgroove' (8" Round Lens)
---
'Bullseye'-era Square-body (12" Square Lens)
---
'Bullseye' Roundbody (12" Round Lens)
---
'Buttonback' (Square Lens – 9" & 12")
---
'Bubbleback' (Square Lens – 9" & 12")
---
'Kentron-style' (Square Lens - 9" & 12")
---
'Poly Buttonback' (Square Lens - 9" & 12")
---
'McCain-style' (Square Lens – 12")
---
16 inch
---
E-8
The classic Econolite neon ped signal. Available in many different versions, ranging from the early bent tube Wait/Walk, bent tube "Don't Walk/Walk", backlit "Dont Walk/Walk" in red/green or orange/white, and Hand/Man, using ICC guts. Some have been converted to fiber-optic modules, as well as LED modules. Earlier units come with a tunnel visor that is sectioned in the middle. Later units could come with that, or had the option of either a woven ICC visor grille with sectioning strip in the middle or an eggcrate ICC visor grille.

---
'Buttonback'-era
Introduced sometime in the 1980s, discontinued recently. Design is very utilitarian, shaped almost like a rectangular box. Latches are at the top, like they are on most other brand 16" peds. Have only been seen in Hand/Man configurations with an eggcrate visor grille. Were either available in Neon or Incandescent versions.

---
'McCain-style'-era
They look very similar to an ICC or McCain, but thinner bodies, since they were never offered in either incandescent or neon versions. LED only.

---
Pedestrian Pushuttons
---
---
---
---
---
---
9x12" Bracket-mount Sign
---
Signal Mounting
---
Plumbizers
---
Traffic Signal Brackets
---
Pedestrian Signal Brackets
---
Signal Lenses, Visors, & Backplates
---
Lenses
The earliest Econolite 8" heads came with TL-4677-E Kopp Glass sawtooth lenses with the Econolite logo in the middle. Sometime after Econolite took over GE's signal business, they started using the brick pattern TL-4655-E lenses, again with their logo embossed in the middle. 12" vehicle heads usually came with TL-4955 brick pattern Kopp lenses, but there have been some rare instances of TL-4641 diamond pattern lenses, and possibly some TL-4640 thumbnail pattern lenses as well.

---
Visors
The usual tunnels, cutaways, and full-circle visors were available. Econolite visors tend to stick out straighter than other brands, except for McCain, which seems to use visors with the same cut as Econolite.

---
Backplates
Grooveback (Long-groove and shortgroove) backplates come in either 5" or 8" widths and are usually screwed into the sides of the signal bodies. They are also pretty close to being a universal fit, being able to be used on Crouse-Hinds type D/DT heads, Eaglelux heads, GE grooveback heads, etc. Long-groove backplates typically are made of a thicker sheet steel than the later shortgroove versions.
The 12" Bullseye body backplates are designed to only fit Econolite heads. Again, like the Grooveback backplates, they screw into the sides of the bodies, using machine screws.
Buttonback and newer design backplates are typically installed using pop rivets, instead of screws.
All versions are available either solid or louvered, and in any type of combination for combo heads.

---
Controllers
---
...
---