Eagle
From HighwayWiki
Note: This section currently only covers the scope of Eagle Traffic Signals from the first documented signal in 1931 to their modern day evolution into the Siemens ITS conglomerate.
Go Here For Essco, AKA the Eagle Signal and Sign Company.
Go Here For Harrington-Seaberg.
History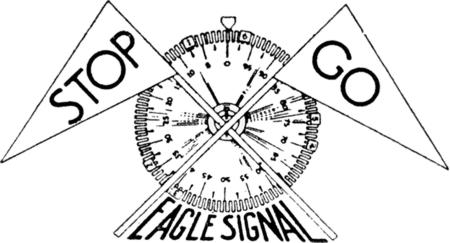 Founding years
The Eagle Signal and Sign Company appears to have been founded in 1931 coming in right after the first wave of signals and manufacturers in the mid 20's. It's early operation history is still under debate and may have involved contract production for, by or merely distribution partnerships with Harrington-Seaberg and ESSCO.
Middle Ages
As Eagle moved through the 1930's and into the 1940's they kept with a narrow product lineup but continued to tweak and upgrade the designs. They remained a market leader competing with Crouse-Hinds, and to a lesser amount Marbelite, for control of midwest America as early competitors like GE and Horni faded away while new companies such as Econolite and A1 signal came onto the scene. Having plugged away for over 25 years with the same basic design, the first generation of flat back models wee introduced in the mid 50's with fully modern adjustable signals quickly followed by 12" signals as Eagle entered the 1960's
Modern Age
As Eagle entered into the modern age of signals they underwent many corporate changes. Moving from their traditional headquarters in Moline, Illinois to a new base of operations in Davenport, Iowa and an acquisition by Gulf & Western started a long period of corporate activity. 1987 Mark IV Industries acquires Eagle Signal (DBA Harrington Seaberg?) and in 1988 consolidates the Mark IV, Automatic Signal, and Eagle brands into Automatic Signal/Eagle Signal. Mark IV moved the company to its current headquarters in Austin, Texas. Name later changed to Eagle Traffic Control Systems. Timer motor division sold in 1992? January 9, 1997 Mark IV Industries, Inc. sold its Automatic Signal/Eagle Signal subsidiary to Siemens Energy & Automation, Inc. The Eagle name was dropped following aquisition to be now known as Siemens ITS.
In November 2013, Siemens split the product line in two and sold the traffic signal and cabinet manufacturing to Brown Traffic Products of Davenport, Iowa. Siemens ITS retained the controller software and hardware lines, as well as the regional software products. Brown Traffic operates the former Siemens Austin TX facility, and has brought back the original Eagle brand name.
International Operations
Some vintage Eagle equipment has been seen, in slightly modified versions of the American designs, in both Australia and Europe.
Part Numbering Systems
The part numbering system for Eagle Signals, especially in the early days, is quite confusing. The general patterns are as follows:
Signals
Older rodded signals were identified by a pattern of 1234
1. Prefix of S or X (for signal presumably), Z for internal flasher, Y for internal controller, Blank for 4-ways.
2. Number of separate signals in the design, 1-5. Six seemed to imply a stand-alone bare signal. 4-ways with less than 4 had (4-x) blank plates installed.
3. Number of lenses per signal head...1-4+
4. Accessory hardware,
For Four Ways
V-Pedestal
U-4-way Slipfitter
EX-Pendant Chain with Bell
E-Spanwire Hanger
H-Mast-Arm Hanger (and bottom bell?)
F-Downlight
For Adjustables
I-Side of pole cluster mount pipes?
II-Side of pole cluster mount pipes?
J-Side of pole cluster mount pipes?
C-Pipe Slipfitter and Finial
P-Terminal block Housing Base and Finial
A-Finial Only
C-Slipfitter with Cluster Pipe Frame
G-Mast-Arm Hanger
E-Spanwire Hanger
[blank]-No Hardware
Modern signals seem to have been sold more in kit forms and have separate partnumbers for generic signal heads, fittings, etc.
Controllers
Many controllers were identified either by name only, or a descriptor instead of a discrete partnumber. Those that do follow a structured numbering system, like signal are from the 30's to mid-century. Controllers carried on the standard scheme longer than signals by a decade or two, however, up until around the 70's.
Controllers were identified by the pattern of 123
1. Controller Function or Motor Type, E for Electro-Mechanical, H for Flasher (or induction motor?), L for Relay
2. Sub-descriptor for Controller Design, Pattern Not Identified.
Possibly A-E were reserved for controller lights pattern?
D-
F-
K-
H-
T-
3. Model Number, Not believed to be anything more than a name.
Traffic Signals
Four Ways
Eagle produced 4-way signals in one standard body style from their introduction in 1931 as the Eaglelux to the end of production during the flat back signal era in the 50's. Only minor internal differences with the reflectors, as well as removal of the brass ID tag from the base plate, differentiated the age of these signals. The internal changes are further documented in the Adjustables sections for the Eaglelux and flat back (Rodded) 8" signals.
The Eagle 4-way signal is built from individual sections with four sides riveted together. Each side had provisions for a reflector and related hardware. For less-than-4-ways, a blank door could be installed in place of a lens door - some beacons used this as an alternative location to mount the internal flashing device. One or more sections were stacked as necessary to build the signal, held together by tie rods running through the top and bottom plates. The trim of the bottom plates were especially susceptible to damage, being a cast flat plate with curved edges, both drops and side impacts focused their energy to the edge of the unrelieved curved edge causing chipping and breaking. It should be noted though, that they were an overall sturdy signal for this plate edge breakage rarely caused further damage to the signal.
Eaglelux
Earlier signals used a significantly heavier cast design, most notably as many were equipped with cutaway visors being molded into the door
Rodded Eagle
Variants
Fire Beacon
One unique signal offered was the fire beacon. Equipped with a siren on top, the beacon was intended to be placed outside a firehouse where it would be activated by the crew inside, clearing the road as the equipment roared out of the garage.
Integrated controller
When signals were more isolated and most installations were meant to be first time or lifetime, Eagle was one of many manufacturers to offer a controller built into the signal where a town merely had to mount the signal, plug it into the nearest outlet, and have a fully automatic intersection. Both beacon flashers and full RYG signals were offered with controllers built into the base. These signals are easy to spot, having a small latched box protruding below the signal skirt.
4-Way Photos (Temporary Holding Place)

Figure: Pedestal Beacon Model 21ALV
Figure: Model 23CU two-way post mount signal.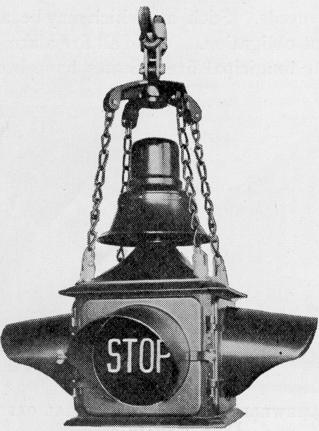 Figure: Fire Alarm beacon, typically painted red with black accents and a siren, pendant hung via chains. Model 41EX.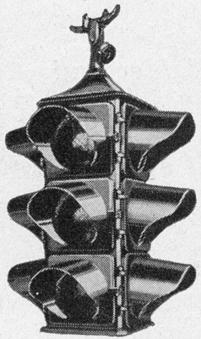 Figure: Standard three-section Eagle 4-way model 43E for spanwire hanging.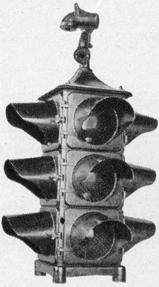 Figure: Figure: Model 43H three-section Eagle 4-way with mast arm hanger and bottom downlight? bell? provision.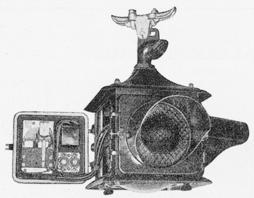 Figure: Model Z31F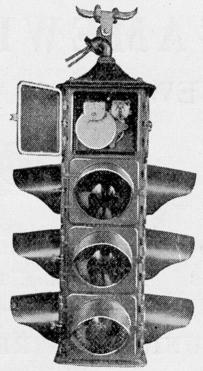 Figure: Model Y43E
Adjustables
Ornamental Eaglelux Signal - Solid Body
The earliest of Eagle Signals, was the Roman Column style of signal. Produced in 1931 and onwards to the mid 30's, it appeared in Eagle advertisements until approximately 1937. It's exact dates are unknown, the front view is identical to a standard Eaglelux, while the remainder is completely different making positive identifications rather difficult. The signal itself only seems to be called decorative or ornamental in design, however, examples have been found that have Eaglelux ID tags installed.
In terms of construction, it resembles a Horni or Ruleta of the era. Reflectors are housed in a cast frame assembly, the entirety of which is hinged off the signal door. The body itself is just an empty shell.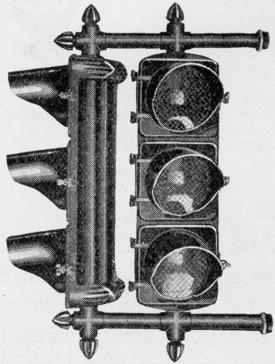 Figure: Model S23II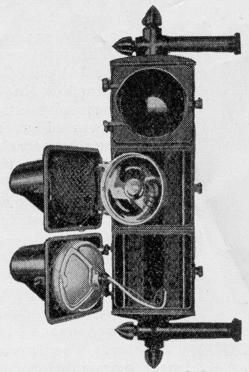 Figure: Model X13J
Eaglelux
Eagle produced adjustable signals in one basic body style from their introduction in 1936[???] as the Eaglelux to the end of production well into in the 50's when the rodded flatback signal was introduced. The signals underwent continuous, miniscule modifications throughout production, the most notable features of which are outlined below.
Logos
Blank bodies are found on all tall-fin, and some early models of short-fin. The back of the casting featured a prominent mold insert imprint but was devoid of any manufacturer's indication. The reason behind this is unknown. Later models of the short fin did incorporate the Eagle thunderbird outline with the raised text "Eagle Signal Corp" incorporated onto the figure. It is believed the earlier versions used a climbing script version of the word Signal, with later ones using the same font as the words Eagle and Corp always did, a plain sans-serif font.
Endplates
All Eagleluxes were of the tie-rod design, with two end plates holding together the group of common signal sections. The earliest of these plate styles was known informally as the Tall Fin. It was a significant flange, around 1 3/8", on the front face of the signal featuring a gentle, rounded arch shape and adding significant height to the front face of the signal. In later years this was modified down to 3/4" tall to only be a small, Short Fin which kept a similar arch profile but was barely taller that the thickness of the plate it was made to,. The top and bottom plates were interchangeable and only distinguishable because the ID tag went on the bottom. They were built with a inset flange designed to mate with the tapered body housings, the upper part of the signal was narrower and set inside a lip on the endplate while the lower part of the signal was flared out and set outside the endplate lip. This same philosophy also allowed the bodies to stack securely amongst themselves.
IMG 3105
ID Tags
All tall-fin models came with one or more ID tags installed. Some, if not all, short-fin models also came with an ID tag. There were several variations over the years, and the following is speculative data on when and what order and dates they were used.
Brass vs. Aluminum tags. The earliest tags were made of brass, with later signals moving to aluminum tags (in the tall fin era). It is possible that in the final years of the tall fins or during the short fins, tags were changed back to brass. [Look at if this was related to WW2]
This set of tags was from a pre-1942, tall-fin model. Note the two accessory tags, one references the "original" 1924 traffic signal patent 1490567, not owned by Eagle, and the other eludes to Eagle patenting the Eaglelux design when this master patent expires. Signals from 1942 and later feature tag(s) with the 2xxx patent number which are specifically for the design of this signal.

These next tags are also tall-fin tags.
Lens Holders
As the Eaglelux was a long serving signal it is quite apparent the design was modified to keep up with the latest trends. The first lenses were held into the signal with four steel quarter-rings that interlocked. A lens to signal body and a lens to ring cork gaskets were apparently used from the start of production, however due to their fragility and short life, most signals are devoid of original gasketing. In later years these two pieces of cork became the modern single wraparound rubber gasket, still secured with the four part ring. The last of the Eagleluxes used conventional lens tabs on the bosses of the original quarter rings.
Acorn Nuts/Tie Rods
Some of the earlier tall fin signals used large, ornate brass and steel "acorn nuts" to cap the tie rods, sealed with a lead washer. These are faux nuts, however, not of a standard Imperial wrench size and barely fitting a suitable metric wrench, these were actually formed stampings that appear to have been swaged onto standard steel hex nuts. The remainder, and newer Eaglelux signals used standard high-profile acorn nuts without any fancy stamping or machining assembly required. Split lock washers and lead sealing washers were still in use though.
Screws
At some point in the production run, Eagle experimented with that new for 1934 device, the Phillips screw. This appears to be short lived, as only a few Eagleluxes have been seen without slotted screws, and by the time of the rodded flatback slotted screws were again in use. Perhaps this was around 1950 when the patent was revoked and the screw, ubiquitous to the market now, was first available cheaply to the masses.
Visors
Both cap and tunnel visors were popular accessories, it is presumable full circles and other variants were available as well. The earliest of visors are believed to have been made of rolled aluminum sheet, with the visor tabs being heavy brass L-brackets with one rivet into the visor and screwed to the signal in a conventional manner. The remaining visors kept to the simpler design of a rolled sheet with a folded up tab to bolt to the signal. Through the years these went through both small, thin tabs with a drilled hole and larger modern type tabs with a slot to allow easier installation and removal.
Hinge Pins
Rounded Rivet-Pins were used on some signals, while others a Flat-Headed Pin e.g. "Nail" were used instead.
Odd variations
As with most manufacturers of the time, signals were available by special order with modified designs or materials such as steel, cast iron, and bronze. Here, a surviving pair of signals made of steel are pictured. Note the slight modification to the hinge design.
Eaglelux Photos (Temp Holding Place)
Figure: Eaglelux signal, Tall Fin, Post Mount with Finial, Model 13C or X13C.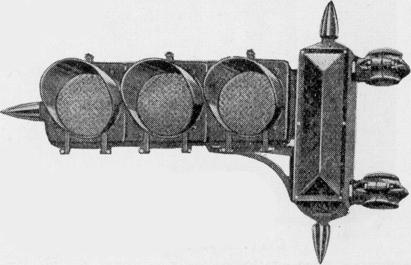 Figure: Eaglelux 13P signal with UJ15 horizontal side of pole mount hardware.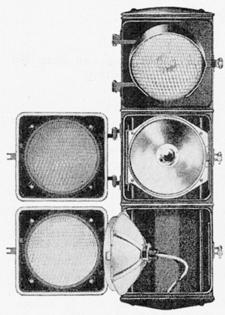 Figure: Model KB63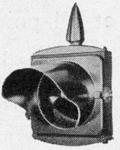 Figure: Model S11A
Figure: Model S23A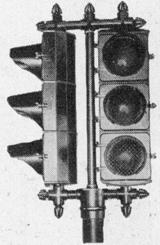 Figure: Model S23C
Figure: Model S23I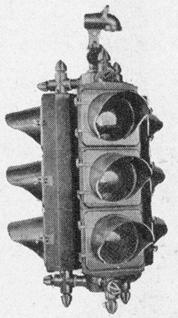 Figure: Model S33G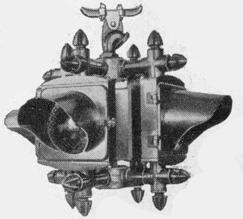 Figure: Model S41E

Figure: Model SX33C
Flatback (Rodded)
Flatback 8" and 12" (Conventional Design)
The Flatback model was an evolution of the last rodded signals. The casting was shortened slightly and sealed off on both ends to make a conventional sectional signal. At the same time, the reflector assemblies were simplified to a conventional reflector H-frame design and reflector/socket holder. This reduced the material and assembly required from the older style swingout/latching frames and the need to install additional features inside the housing to accomodate them.
These signals, when introduced, were known as the KB170, for the eight inch version, and the KB380 for the new 12" signal heads. The models were visually identical, with the exception being dual latches on the 12" model.
Alusig
The Eagle Alusig is an aluminum traffic light that was introduced in the early 1970s; its 8-inch design on the back is shaped like a trapezoid with very small semicircles on the sides, whereas the 12-inch design has the round portions of the back enlarged and making a "bowtie" formation.
Durasig
The Eagle Durasig is one of the first traffic lights to be made out of polycarbonate; it was introduced in the early 1970s, around the same time as its aluminum counterpart (Alusig). Its 8-inch design on the back looks very simliar to the Alusig, but the 12-inch design has a round circle in the middle to complete the bowtie-like design from the Alusig.
MarkIV
Pedestrian Signals
describe models, variations [delete]
Vehicle Heads (Round)
Vehicle Heads (Square Door Adapters)
Pedestrian/Sign Heads (Rectangular)
Early rectangular pedestrian heads were a modification of standard single faced signal heads. A rectangular reflector adapter was fitted to the front of a standard signal body.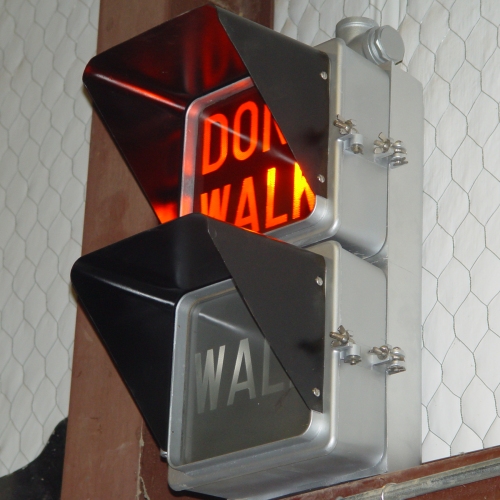 Figure: Eagle worded pedestrian signal.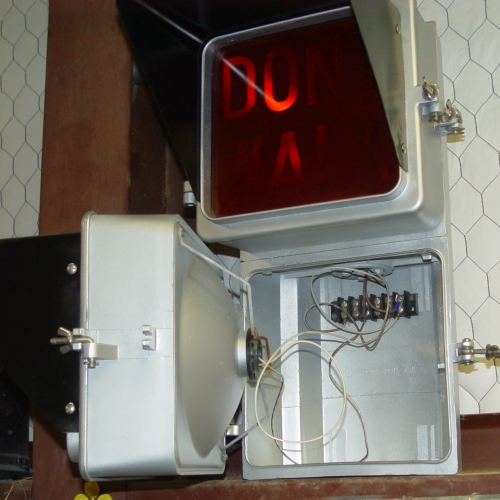 Figure: Interior view.
Informational Signals and Signs
describe models, variations [delete] includes "box signs," "case signs," and Ped Heads with special [non-ped] lenses.
Lenses
Vehicular
Kopp 27 Diamond
Early Eaglelux signals often were equipped with Kopp lettered or non-lettered diamond pattern lenses.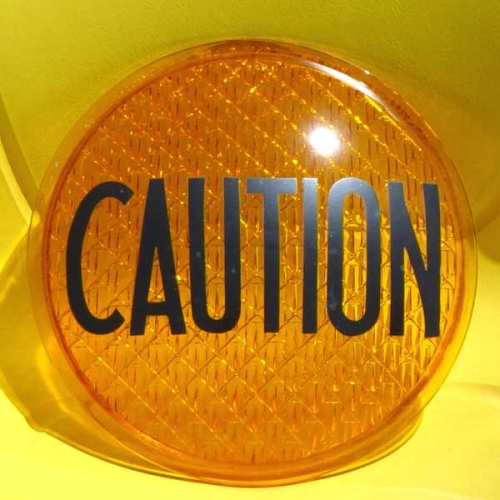 Figure: Kopp 27 "diamond pattern" lens with command lettering.
Adler Bar Lenses
Adler bar lenses were optional. They were designed for color blind drivers. Red lens - horizontal bar. Amber lens - diagonal bar. Green lens - vertical bar.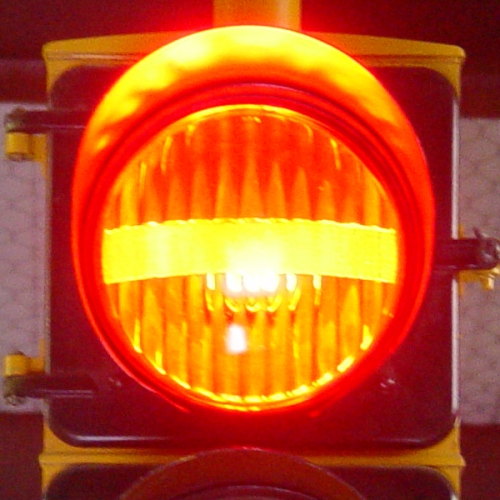 Figure: Adler bar lens.
Kopp 88.1
A rare variant of the 88a was the 88 or 88.1 lens. While visually quite similar to the more ubiquitous version, the 88.1 had more of a vertical brick pattern.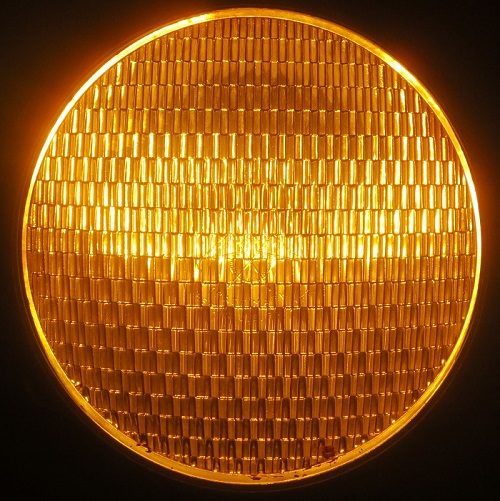 Kopp 88a
The majority of Eagle signals have featured this lens. These lenses had a very fine beaded pattern that refracted a bright light. Earlier lenses had Eagle's Stop-Go crossed semaphore flag logo prominently molded in the front. In later versions of the Kopp 88a lenses, the crossed flags were replaced with a spread wing eagle inside a square.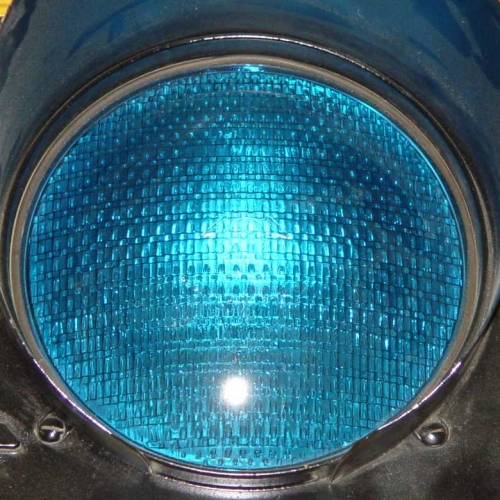 Figure: Kopp 88a lens (with stop and go flag logo)
Pedestrian
Worded
Circular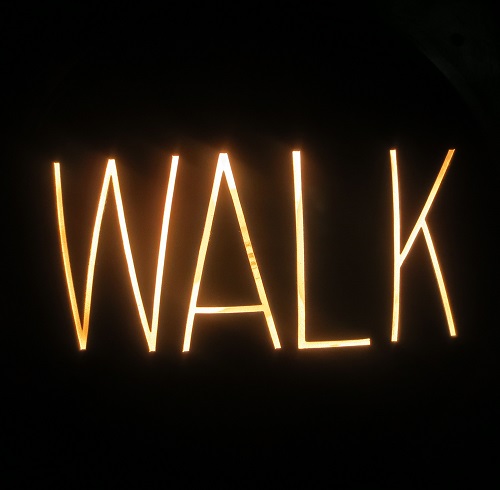 Square
Shown below is a less common variation of the walk lens where there is a stripe through the letters instead of the lens being completely black. This came in a white or black stripe. Pictured here is a black stripe that has faded to a gray color from years of use.
Symbols
Special
Controllers
Eagle has manufactured controllers for as long as they have signals. In 1926 they [possibly in the previous company as ESSCO] installed what is claimed to be the first flexible progressive timing system in the loop district of Chicago. By 1931 they were a full line controller company making flexible progressive, limited progressive, coordinated, and isolated controllers.
Also in the late '20's the famous Co-ordiplex system was developed. This was widely adopted by many of the larger cities from coast to coast entering the 1930's including:
Chicago
L.A.
St. Louis
Spokane & Seattle, WA
Tulsa, OK
New Orleans
Canton, OH
Cambridge, MA
E. Pittsburgh & Bethlehem
Newport, KY
Rochester, NY
Baltimore

Of special note is their early international reach with both Winnipeg, Manitoba, CAN and Melbourne, AUS using the controllers and in the case of Melbourne at least, Eagle Signals for many years to come.
Eagle, like most manufacturers, had a few basic cabinet castings over the years, going from small cast metal tombstone style cabinets to larger and more squared off cast aluminum cabinets before the modern stamped and formed stainless steel sheetmetal cabinets to refrigerator sized boxes of today. Each era housed a variety of similar model controllers, the main differences being in functionality and installed accessories.
Early Controllers of the 1930's
Fixed Signal Patterns
In 1934, with many two-color lights still in service or being installed, Eagle offered the following five fixed controller patterns:
Three Color Signals
     Cycle A - G, GA, R, RA
     Cycle B - G, A, R, A
     Cycle C - G, GA, R
     Cycle D - G, A, R

Two Color Signals
     Cycle E - Red N/S overlaps Red E/W during Change 

Simplex Traffic Signal Timer
A name more synonymous with W. S. Darley and timeclocks, the 20's saw Eagle develop the Simplex timer early in traffic signal development. It featured low maintenance, an induction disc drive motor, and heavy contact load ratings. Stop, Go, and the total period are adjustable via sliding scale and dials (Amber-Caution being a byproduct of the red, green and total times). Furnished in both automatic and manual control versions, and in an aluminum weatherproof cabinet.
The Simplex controller of the 1930's was used for isolated intersections and as the master for a staggered system. The adjustability was for green lights and cycle times (amber was fixed). Contact ratings were 10A per circuit. The dial motors were available in induction disc and Synchronous types. When used with the later, the controller was known as a Synchro-Simplex and was better suited for interconnected operation and was apparently better regulated in timekeeping. These types were reccomended for "intersections within 1000 feet" to allow coordinated movements of traffic. Regardless of motor type, the controller had manual control options and an optional amber flasher.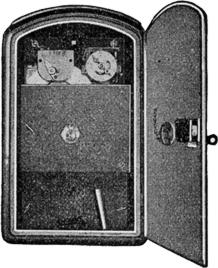 Image: Simplex timer in aluminum cabinet circa 1931. [Image by LC]
Co-oridplex Traffic System
An interconnected traffic control system with either a dual master switchboard or cabinet controller acting as the master timer while each intersection runs on a local timer connected back to the master with only four wires.
Can operate as a Simplex controller but designed for the flexible-progressive traffic control method hence the "coordinated" surname. This was designed to have a master controller interconnected to local controllers at each intersection. By adjusting the timing of one intersection or adjusting values of the master controller it was possible to reflect the changes in the streets along that route, allowing a smooth flow and proper intervals to be made years before proper analog computers were in existance! Like the Simplex, these were available in induction disc and synchronous types - the synchronous recommended for more heavy duty traffic applications.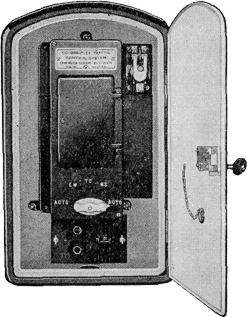 Image: Co-ordiplex local timer in aluminum cabinet circa 1931. [Image by LC]
Eagle-Senior Controllers
These were an early attempt to allow programmability in controllers (as noted previously, most controllers did a forced green-yellow-red with little adjustment between them nor other patterns like left turn arrows, all reds, etc.). With expansion and large intersections in mind they were designed to accomodate 14 circuits and allow 12 timing intervals. They were designed to accomodate flexible-progressive and Co-ordiplex control systems and would operate on a synchronous motor and keep good time so controller interconnection was not necessary. The Senior-Triplex was one of the first three-dial controllers allowing one controller to operate at three different timing patterns.
Eagle Master Controllers
Master controllers were designed to drive the entire flexible progressive system. Their functions were to keep all local controllers in time with each other, adjusting the total cycle time for the system, and finally to serve as an overall signal control - setting nighttime flash mode, emergency street clearance, etc.
Actuated Controllers
Eagle claimed a "liscensed list of an imposing list of patents" for actuated controllers. While they do not go into detail, by 1935 they were incorporating this into their flexible-progressive systems.
Eagle-Junior Beacon Flashers
These were described as small, ball bearing movement flashers. The motors were of induction type with cotton windings. Silver was used for the contact points. "Years of maintenance free operation"
Vario Three-Period Timer
Designed for three-street intersections with independant "Go" periods for each street once per cycle with "a customary traffic change period" before each change in traffic. The amber period is also independently adjustable. Comes in aluminum cabinet.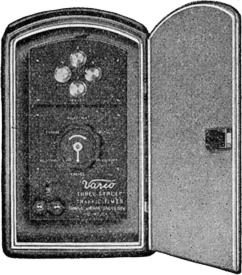 Image: Vario three-period timer in aluminum cabinet circa 1931. [Image by LC]
Photos Temp
Co-Ordiplex Demand Controller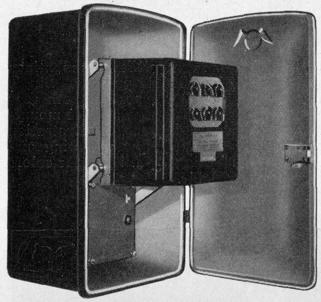 Figure: Eagle Co-Ordiplex Demand Controller
ED19 Auto/Man. Induction Type Simplex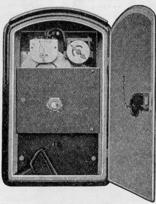 Figure: Eagle ED19 automatic and manual induction type Simplex controller circa 1934-1935. [Image by LC]
EH1 Induction Type Master Controller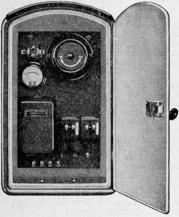 Figure: EH1 Induction type master controller circa 1934-1935. [Image by LC]
EH4 Duplex Induction Type Master Controller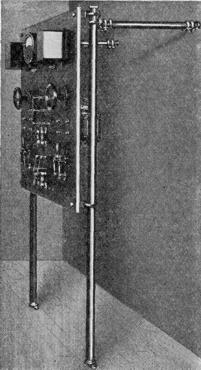 Figure: EH4 Duplex induction type master controller circa 1934-1941. [Image by LC]
EH60 Synchronous Master Controller
Figure: EH60 Synchronous master controller circa 1934-1941. [Image by LC]
EK41 Auto/Man. Co-ordiplex Controller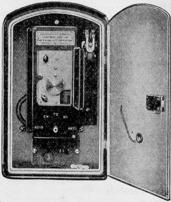 Figure: EK41 Automatic and manual co-ordiplex controller circa 1934-1935. [Image by LC]
EK400 TBD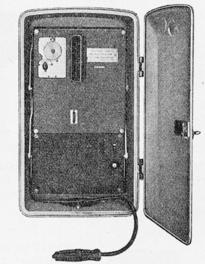 Figure: EK400
EK658 Co-ordiplex Controller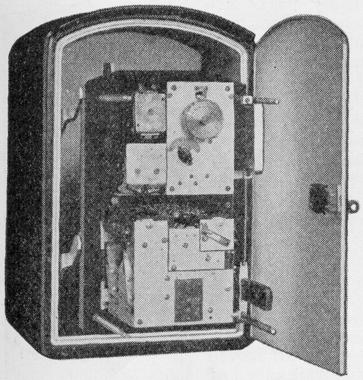 Figure: EK658 shown without covers and removed from cabinet. Circa 1934-1935. [Image by LC]
EKS70 Co-ordiplex controller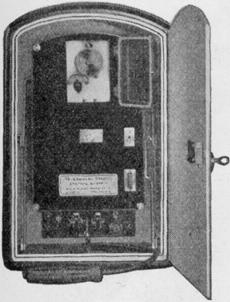 Figure: EKS70 Co-ordiplex controller shown with dial cover open. Circa 1934-1935. [Image by LC]
EKS71 Eagle-Senior Three Dial Controller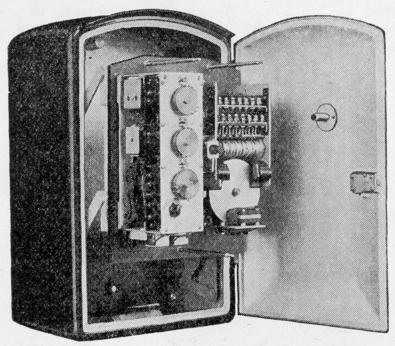 Figure: EKS71 Eagle-Senior three dial controller without mechanisim cover. Circa 1934-1935. [Image by LC]
HT4 Junior Flasher & EL42 Cabinet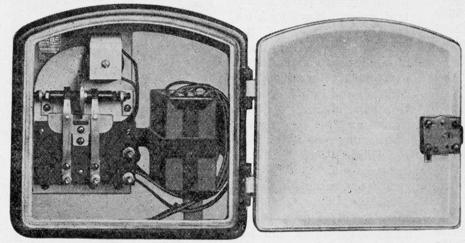 Figure: HT4 Eagle-Junior flasher with RFI filter. Cabinet shown is EL42. Circa 1934-1935. [Image by LC]
HT14 TBD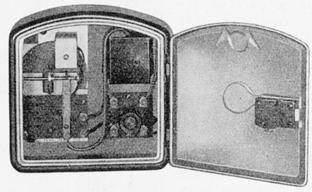 Figure: HT14
LA1 Jack Mounted Relay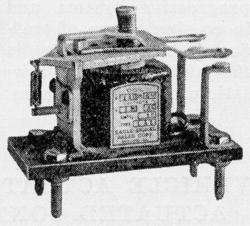 Figure: LA1 Jack mouted relay, one of 75 types available. Circa 1934-1935. [Image by LC]
Simplex TBD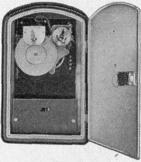 Figure: Simplex
Synchro Simplex TBD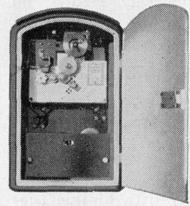 Figure: Synchro Simplex
A2 TBD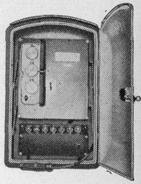 Figure: TypeA2
A TBD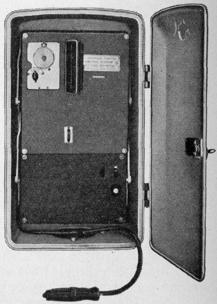 Figure: TypeA
Eagle Programmable Actuated Console (EPAC)
EPAC 300 M10 Series
EPAC 300 M30 Series
EPAC 300 M40 Series
EPAC M50 Series
Eagle Programmable Interval Console (EPIC)
Monitor And Report Console (MARC)
Ramp Metering Console (RMC)
Hardware
this would include any kind of mounting hardware including brackets, slipfitters, hangers, bases, etc. [delete]
Restored Examples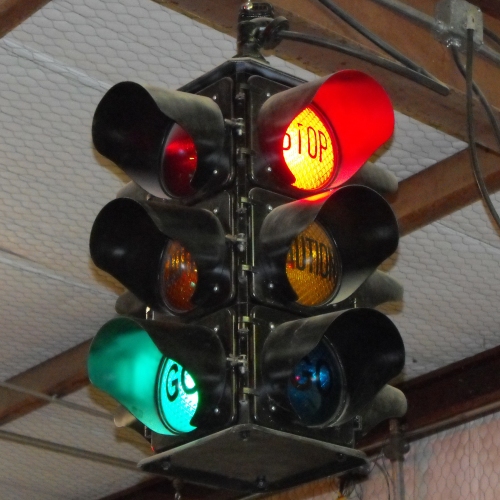 Eagle (Eaglelux) Type 43E with Kopp 27 lenses. (Willis Lamm Collection)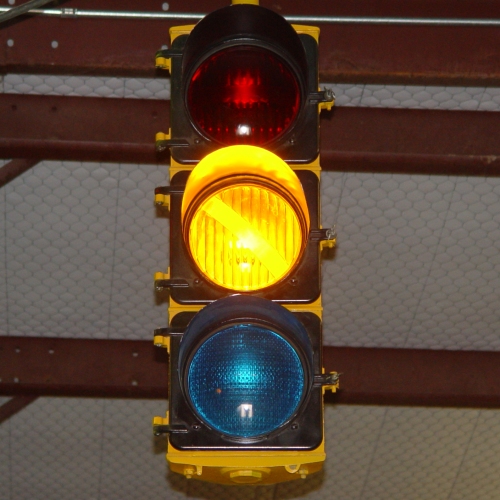 Eagle (Eaglelux) KB63 with two original Adler lenses. (Willis Lamm Collection)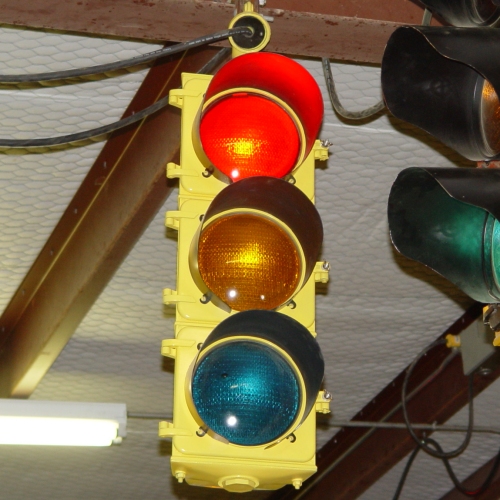 Eagle "rodded flat back" single face signal with Kopp 88a lenses. (Willis Lamm Collection)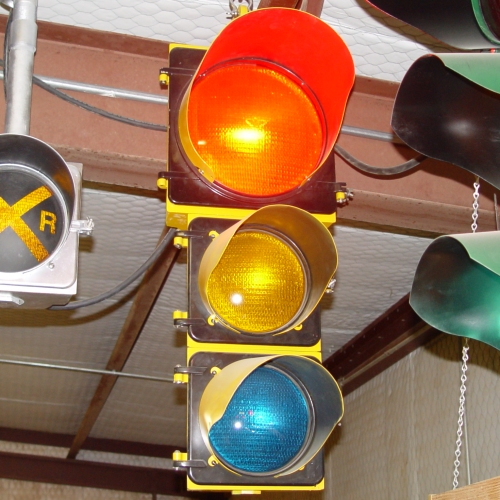 Eagle "flat back" single face signal with 12 inch red section. (Willis Lamm Collection)
Relevant Patents
Patent numbers relevant to this MFR or signals specifically. Not just every patent by company X.
References
Eagle Signal/Danaher Industrial Controls
ITS Siemens Corporate History
Business Wire, Jan 9, 1997