Dialight
From HighwayWiki
Introduction
Standard Vehicle Signal Modules
LED Ball Insert
The most common insert, these replace simple ball indications with low-wattage LED dot matrices or defused LED displays.
LED Arrow Insert
An insert with an arrow design, indicating when it is safe to perform a protected turn or if turns are illegal.
Bimodal LED Arrow Insert
Similar to a standard LED arrow insert, the bimodal insert can display both green and yellow arrows from the same insert, saving money on new installations and making previously legal single green arrows legal once more without the need of an additional housing. The insert has 3 wires at the back to control which indication shows.
LED U-Turn Arrow Insert
An insert with a U-turn arrow design, indicating when it is safe to perform a protected U-turn and when it is not.
LED Bicycle Insert
An insert with a bicycle design, indicating when it is safe for cyclists to enter the intersection.
LED School Zone Insert
Very similar to a countdown pedestrian signal insert, this insert displays a number between 10 and 35, in increments of 5, based on the positioning of dip switches on the back of the insert. The insert fits into all standard 12" pedestrian signal housings.
LED PV Bulb Replacement
Essentially what it sounds like, this unit replaces the PAR46 at the back of PV signals with an array of colored LEDs to go into their respective sections. As a consequence of colored LEDs in the inserts, these are incompatible with 3M's M-133 dual-indication sections.
Standard Pedestrian Signal Modules
Streetlighting
Integrated Signal Head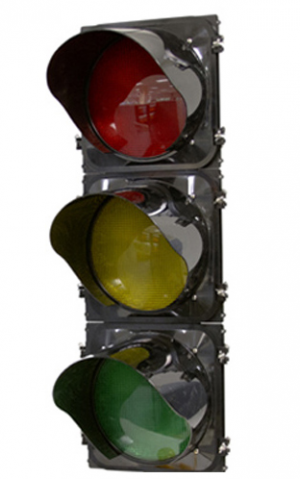 Early Development
In late 2012, Dialight announced that they were going to unveil an innovative new LED traffic signal module. This new module was so designed as to be a one piece unit which did not require assembly of a LED fixture in a traffic signal enclosure, and was compatible with standard traffic signal mounting hardware. The signal was advertised having readily-accessible electronics inside so that individual components could be replaced, instead of the module. The electronics are designed to adapt to power fluctuations to increase their lifespan.

Configuration
The new module is advertised as available in all standard colors and configurations, 12 inch poly only. It is available in red, yellow, green, ball or arrow configuration, tinted or clear lens. Dialight offers a 15 year warranty on it; the longest warranty in the industry for traffic signal heads.

Samples and Prototypes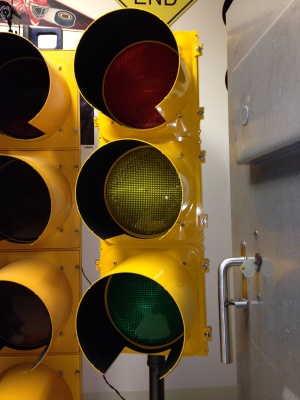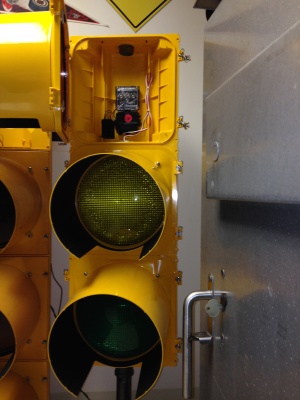 The signal became known as the "Integrated Signal Head" because the LED electronics were built into the signal itself. From the end of 2012 through most of 2013, Dialight focused exclusively on design and manufacture of limited sales units to display at transportation exhibits such as the ITE Expo. The earliest units, according to design specs dated 4/2013, were identified internally only. Later models were molded with DIALIGHT on the back of each housing exterior.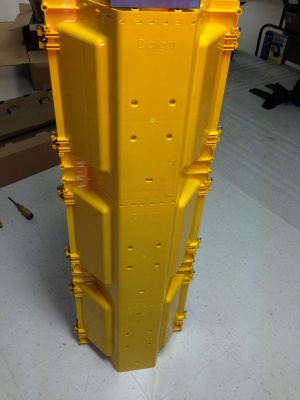 At the time, arrow indications were not available and neither were visors. Visors supplied with the unit, in all known cases, were Siemens poly visors. There are two lenses, sandwiched together in the front of the signal: a clear Fresnel and then an outer colored lens. These lenses are the same used on Dialight's standard LED traffic fixture products.

Design Flaws
Due to the design of the high powered LEDs in the polycarbonate housing, in the dark, the red and yellow housings tend to show significant glow-through. This flaw affects at least yellow molded housings, and is not known to have been redesigned to avoid it.
Another flaw is its difficulty in stocking replacement parts. Specific electronics and light engines must be ordered in fit into their specific housings in order to work properly. It isn't as simple as popping an LED fixture in the door. Internal wiring needs to be routed as to not interfere with the light engine. If agencies begin ordering large quantities, its clearly evident that replacements would consist of fitting a fixture in the door.

Release and Future
As of 2013, the signal has been available in limited quantity for sample and test units through Dialight distributors. So far, demand for them is fairly low, and large-scale production is more than likely not yet been implemented.
In the summer of 2013, the power supplies were being engineered to increase their lifespan from 15 years to 20 years. This upgrade has not been released as an advertisement.