Darley
From HighwayWiki
Summary
Founded in 1908 and still operating today (W.S.Darley Official Website http://www.wsdarley.com/). Originally, Darley (located in Chicago, IL) supplied practically anything and everything a municipality could require. From fire-fighting and police equipment to manhole covers and traffic lights. They provided a consolidated source of economy-priced materials. Eventually, as competition in this field and state and federal requirements increased, Darley abandoned the various merchandise lines and now solely focus on fire fighting and rescue equipment.
W. S. Darley & Co. was founded in 1908 as a supplier of municipal supplies and the company still exists today. Thousands of small towns and cities could order everything they needed from police badges to complete fire engines out of the Darley catalog.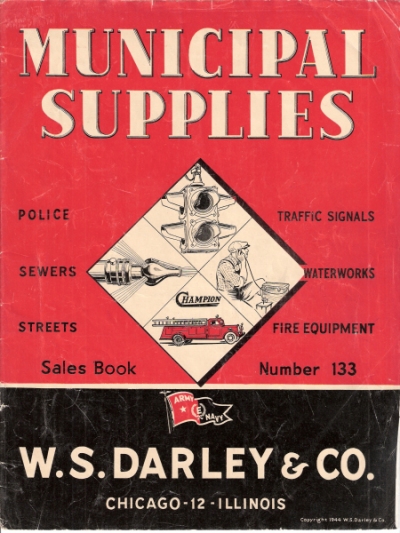 Traffic Signals
Four Ways
Darley manufactured electric traffic signals from the early 1930's to the late 1950's (attribution needed--Ed T. 07:19, 29 June 2007 (EDT)). These signals were very popular with smaller towns because of their low prices, simple construction and ease of purchase through catalogs. As an 'economy' supplier, quite often the finish and workmanship was a little rougher than their competitors.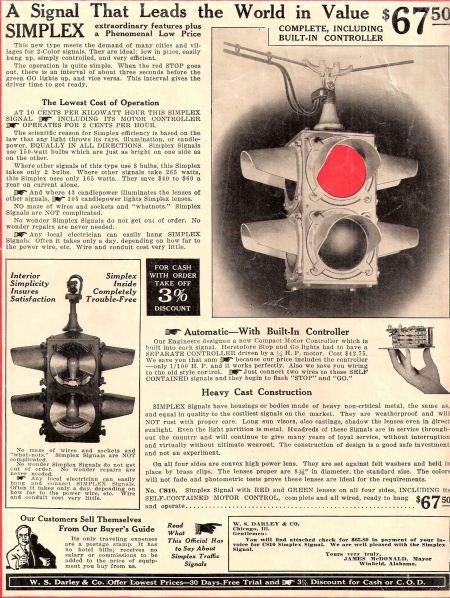 Darley manufactured a versatile assortment of signals from full R/Y/G four ways to single light adjustable flashers. And even though they manufactured them for almost 30 years, there were only minor and subtle changes throughout the entire production run.
During the second half of the 20th Century, Darley gradually phased out many of its municipal supplies lines and focused on fire, EMS and related products. Four Ways
Darley took a no-frills approach to constructing their four ways, which is one of the reasons they were so affordable. Designed when 'portholes' were the norm, the combination visor/door/lens holder was a simple yet effective design. While it offered any visor profile you wanted as long as it was a cutaway, the design did make it more difficult to service these signals in the field.
Available in single, double and triple levels, the housing themselves retained many interchangeable parts. Once more the cost of economy was a lack of flexibility - the solid plate wall construction meant that a single level beacon could not be stacked into a triple level signal nor vice versa.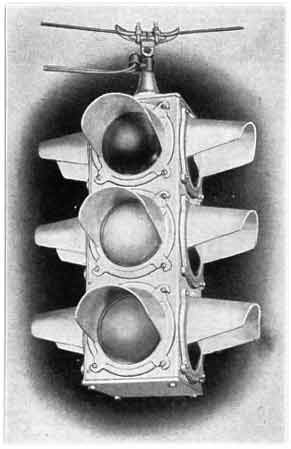 C-811 "Three Bulb" and C-810 "Two Bulb" Fixed 4-way Signals
The original Darley signal used the design principles of William Potts' first electrically illuminated three color traffic signal. Potts, a Detroit Traffic Police Superintendent, created a signal with compartments, each illuminated by a single bulb, which displayed light in four directions. The Potts signal used railroad optical technology. Darley and other early traffic signal manufacturers modified the optics to facilitate a wider viewing angle of illuminated lenses.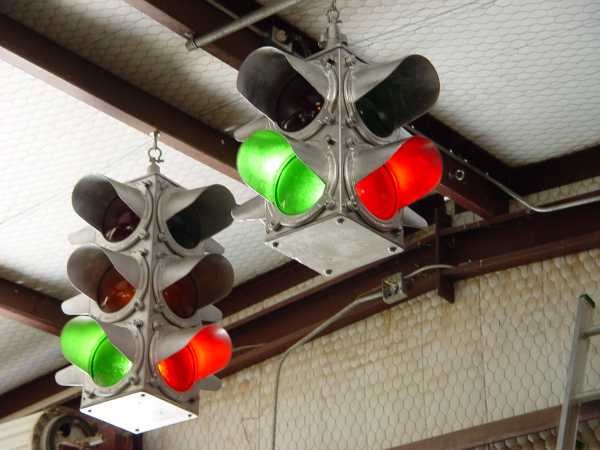 Having four directions lit by a single bulb required the lens colors on two sides of the signal to be arranged in opposite order of the other two sides. In the early days of traffic signals there were no national standards addressing the arrangement of signal colors, so motorists were not confused by seeing green on the top and red on the bottom. This design also required the signal to display a yellow phase when changing from red to green as well as when changing from green to red.
Shortly after these signals started production, reflectors were added to reduce sun phantoms (an effect of low angle sunlight causing unlit lenses to appear to be lit.)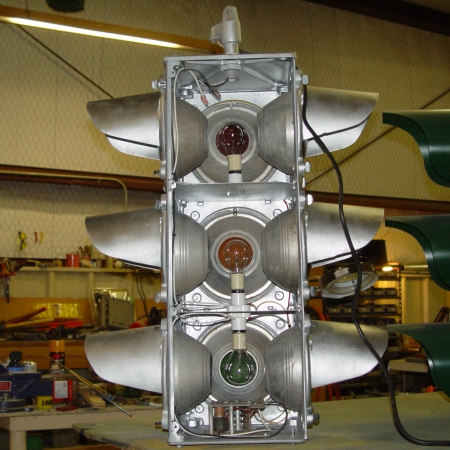 A significant development in reducing the costs of these signals and increasing their popularity was the introduction of the Reyonolds Time-O-Matic controller. This controller could fit into the bottom of the signal itself, negating the need for a separate street corner controller cabinet and expensive controller-to-signal wiring runs. The cost of a traffic signal in an intersection requiring only a single 4-way signal dropped by more than half. Darley boasted, "Our sales prove this signal to be the most popular in America." [Citation: W. S. Darley catalogs]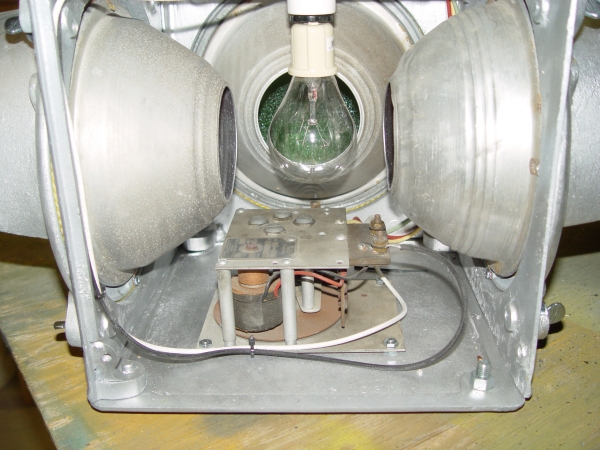 D-200 "Twelve Bulb" Fixed 4-Way Signals
Darley used the same signal body and lens holder / visor "portholes" in the 12-bulb version of their 4-way signal. "Pie pan" reflectors were installed in the signal body to which porcelain Leviton lamp sockets were attached. The reflectors had small ribs near the opening that held them into the signal body. The use of a separate bulb behind each lens allowed for red to be displayed on the top and green on the bottom in all four directions.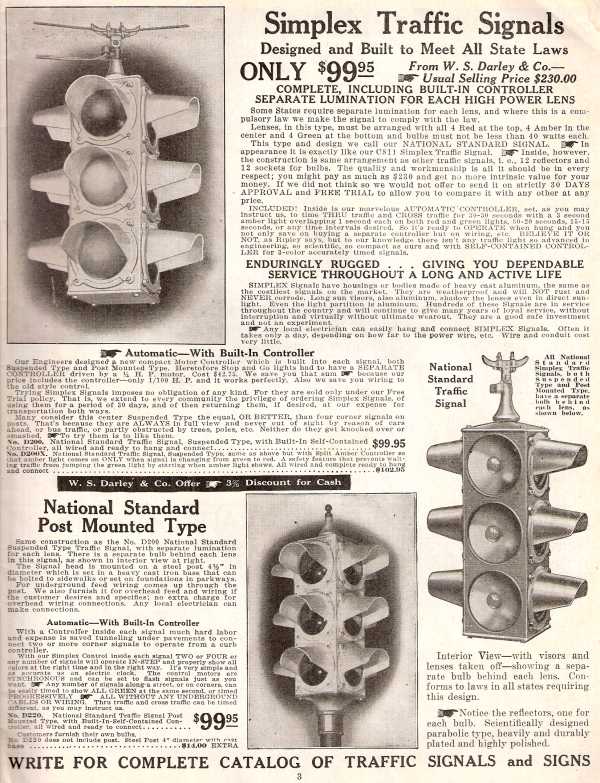 Earlier models used Gillinder Brothers "orange peel" lenses. Later model "National Standard" signals used Kopp 4666 diamond pattern lenses. The shallow "pie pan" reflectors necessary to fit into the preexisting signal body tended to produce shadows behind the Kopp lenses, however these were still quite serviceable signals of which a number are still in use today.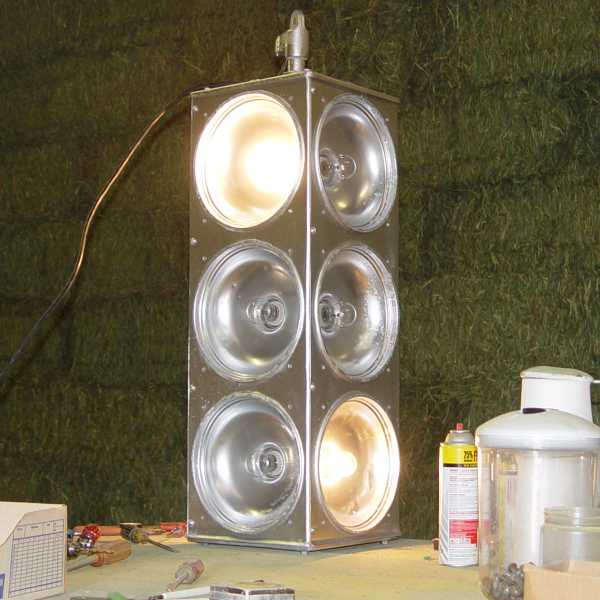 These signals came with three indication options. The first used a three contact controller that displayed amber in all four directions during phase changes. The second used a four contact controller with a "split amber" display - meaning that amber only appeared on the side changing from green to red. A third option was a "stairstep" sequence where the three contact controller was configured to display yellow over green for one second, yellow alone for one second, and red over yellow for one second during phase changes. (The reverse was displayed for the cross street.) On these older signals the green light stayed on during phase change.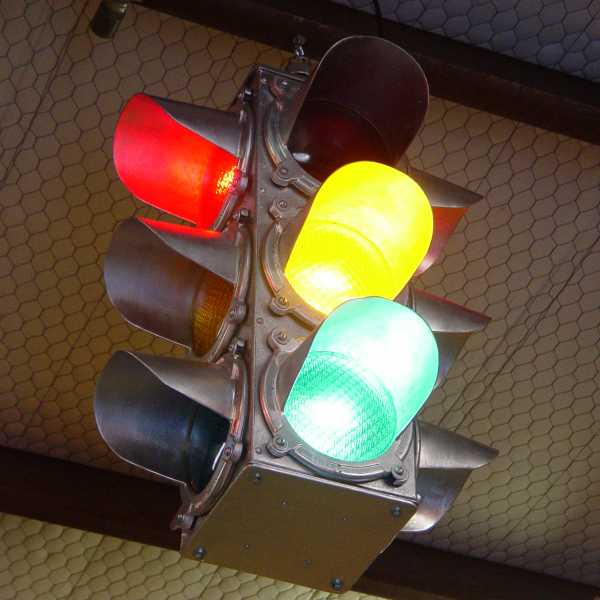 This same configuration was available in Darley's two-section signal. Two ways
By making the backs of their Simplex line removable, Darley made it possible to have two way signals that would use the same housing as their adjustables by replacing the back with another front (and removing the reflectors).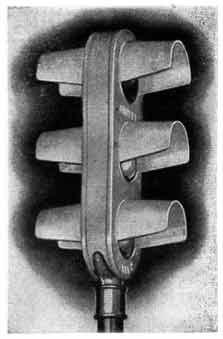 Adjustables (Simplex)
Just like their four ways, Darley had three versions of their adjustable signals as well - single, double and triple level.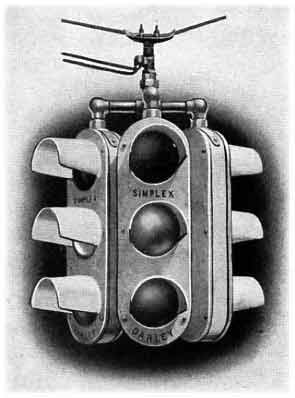 D-480 Three Color
The D-480 was Darley's three color single face signal design. It had one threaded mounting coupling from which the signal could be suspended or post mounted. The signal's cover could be installed on the signal body in either orientation - with the mounting coupling up or down.
This signal primarily consisted of an oval box divided into three compartments and a cover that included the visors, lenses and reflectors. The bulbs protruded through holes in the reflectors in order to provide more uniform illumination of the lenses.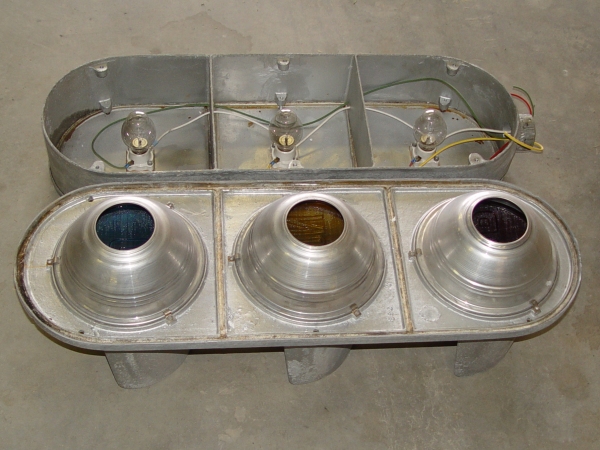 Lenses
Darley had proprietary lenses manufactured by Gillinder Brothers [citation needed] that had a unique appearance through an odd texturing of the lens interior. The texture appears almost beaded and is often described as "orange peel." Another unique aspect of the Darley lenses was a complete lack of any stamping or embossing of manufacturer, size or any specifications at all on the interior rim of the lens. Darley also offered Command Lenses in STOP, CAUTION and GO, but it is unknown for sure who was contracted to manufacture these lenses for Darley. It was possibly MacBeth Evans as the Darley command lenses are practically identical to the Harrington Seaberg command lenses and very similar to the Tokheim and Essco command lenses MBE produced.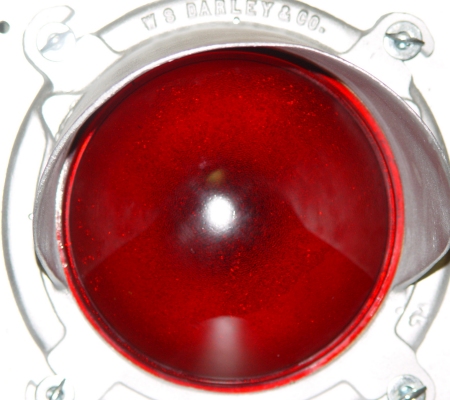 Figure: Darley "orange peel" texture lens.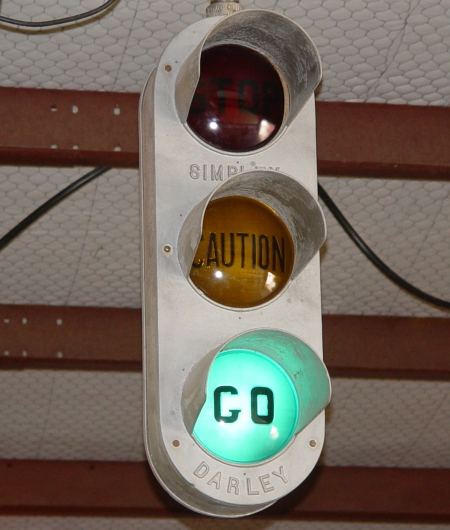 Figure: MacBeth Evans "command" lenses in a Darley D-480 single face signal.
Controllers
Darley offered a couple of different methods to control your new traffic signal - from flashers to 3 cam R/Y/G overlap controllers. Although all of the controllers were intended to be able to be mounted inside any of their four way signals, the slimmer adjustables just didn't have the room and required a controller box.

Flasher
(need good pic--Ed T. 08:04, 29 June 2007 (EDT))
2 Phase 2 Interval
(need good pic--Ed T. 08:04, 29 June 2007 (EDT))
2 Phase 3 Interval
(need good pic--Ed T. 08:04, 29 June 2007 (EDT)) Hardware
Both the four ways and adjustables were offered with either post mount or spanwire hangers. At some point in the 30 year production run, the spanwire hanger was changed either to or from this 'mushroom' type hanger:

(1954 catalog listings showed the mushroom hanger, but more data is still needed----Ed T. 08:17, 29 June 2007 (EDT))
Restored Example
Here is a fine example of a restored 12 bulb four way, belonging to Rick Hayes of TN.