A1
From HighwayWiki
Summary
The A1 Signal Division, in existance since 1943 or earlier, is a company currently located in Balwin [Baldwin] Park, CA and has been in other locations around Southern California, including Alhambra. They once produced their own signal heads similar to what became the Eagle Mk.IV barrel design, in addition to being a distributor signal equipment and accessories. They are now owned by Steiny Company and in recent years only produce signal hardware. In the late 1970's and they had an Acme in their lobby. [Steve AKA Somuchtoseeanddo]
Traffic Signals
Four Ways
A1 is not believed to have produced any fixed directional signals.
Adjustables
Ornamental Signal - Sectional
The front view is similar to other A1 signals or even Eagles with a heavily rounded square door and nondescript styling. The only readily identifying feature is a squarish crown instead of the variously rounded endcaps of the Eagle Eaglelux series or no crown at all for a modern A1 sectional signal. From the back, the signal is unique, being all scalloped like a Roman column but without the decorative banding at both ends of the solid body Eaglelux. The signal is built up as a sectional tie-rod version with a hollow body, endplates, and a set of tie-rods holding it all together. Each body section itself is actually two pieces with the rear column half and a front face half screwed together to make one body section, a rather unusual design feature really only seen one other time on the Crouse-Hinds 12" Deco signals which were stamped aluminum riveted together. The doors themselves are a standard affair except for the reflector mounts. These doors feature cast aluminum reflector frames hinged off the door with a ceramic socket bolted onto the frame. The latch side uses a heavy brass wire as a spring clip to hold the reflector against the lens. The doors had tapped holes on their face to accomodate visors with mounting ears. No real identifying markings have been found on any of these castings which would point to an origin of manufacture. These signals used Kopp #27 diamond pattern lenses with deep coloring.
Each component had a seperate casting number stamped in a large, decorative serif Times New Roman style font with the prefix SC.
Casting ID's
Bottom Plate     SC 2
Top Plate        SC 3
Doors            SC 8
Reflector Frame  SC 9

Modern Sectional Signals
The modern (closed section) A1 signal is a forerunner of the Eagle MkIV design. Body sections are nondescript, a half round shape with the A1 diamond logo proudly embossed on the backside. Much like the Crouse-Hinds D/DT era's, it is believed A1 signals came in two varieties, differentiated by the door only. The earlier type signals used the door complete with reflector assembly from the Sectional Ornamental Signal. The doors had been revised slightly, more cross brace bosses and ejector pins were added to the mold, closing off the holes used for a tab mount visor and the addition of tapped holes on the lens rim for the use of tabless visors. The later, and more conventional type signal did away with the intricate door/reflector assembly in favor of a standard lens door, again with minimal visual differences, and a hinged, swing out reflector assembly. Lenses were typically Kopp #4666 diamond pattern.
This last style was scaled up for a 12" signal variant.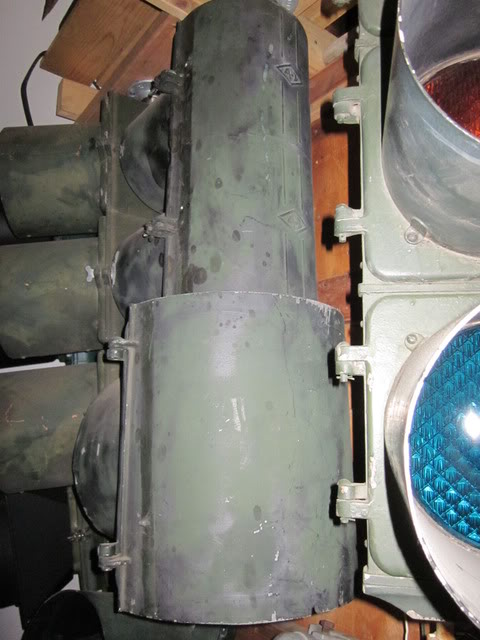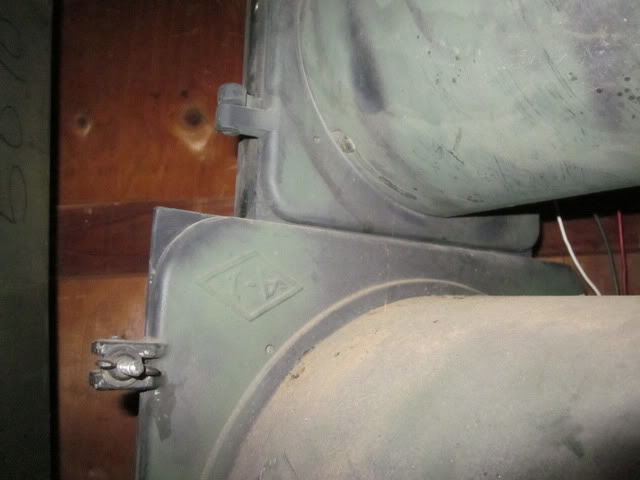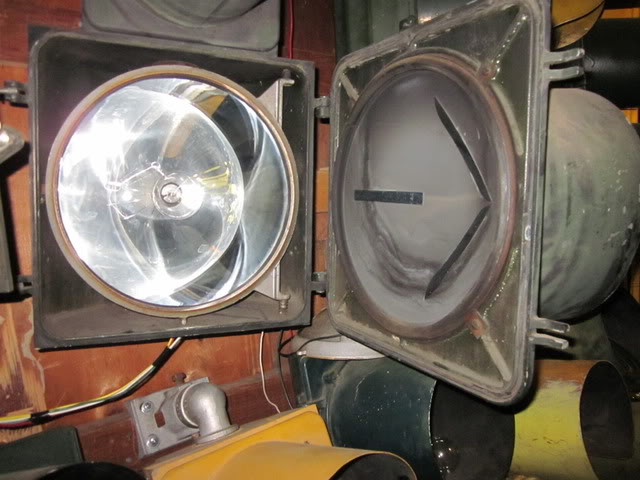 An 8-8-12 belonging to somuchtoseeanddo (Steve). This signal served at the intersection of Atlantic Blvd. and Huntington Dr. in Alhambra, CA. It features a 12" Chinese arrow lens.
NOTES
They have a unique and very sturdy reflector frame/assembly. The housings were fairly plain in design, but heavier than most other signals. They were typically stocked with Kopp 4666 lenses. I believe they were the first signal designed with a "half moon," rounded back. There are still a few scattered about Los Angeles. Alhambra and San Gabriel still have the most in service of cities surveyed. They made an 8" and 12", and the design was similar for each. The back plates were often more rounded on the corners than others. [Steve AKA Somuchtoseeanddo]
Pedestrian Signals
describe models, variations [delete]
Vehicle Heads (Round)
Around 1943 used Walk-Wait lenses. [Steve AKA Somuchtoseeanddo]
Vehicle Heads (Square Door Adapters)
Pedestrian/Sign Heads (Rectangular)
A-1 also made a neon ped similar to Econolite's. The castings were a little more crude than the ones made by Econolite. They made exposed tube, as well as back lit unit with a neon insert that was made by A-1, and the lenses have a font that is slightly smaller than those of Econolite and ICC. [Steve AKA Somuchtoseeanddo]
Informational Signals and Signs
describe models, variations [delete] includes "box signs," "case signs," and Ped Heads with special [non-ped] lenses.
Lenses
describe models, variations [delete]
Vehicular
Pedestrian
Worded
Symbols
Special
Controllers
Different type of controllers [delete]
Hardware
this would include any kind of mounting hardware including brackets, slipfitters, hangers, bases, etc. [delete]
Back in the day, A-1 hardware was pretty easy to find in SoCal much like Econolite hardware is. The junction box covers have the logo embossed. [Steve AKA Somuchtoseeanddo]
Some A1 signals were equipped with 12" adaptors for 8" red sections. These adaptors looked very similar to Eagle adaptors. They are very different than the Econolite "round" adaptors. [Steve AKA Somuchtoseeanddo]
Restored Examples
a couple of quality pics of a restored unit [delete]
References
Insert any sources cited or used here [delete] A1 Signal Corporate Site Steve AKA Somuchtoseeanddo